Our Story
Njord Engineering is an engineering consulting, product development and a venture capitalist firm that focuses mainly on software engineering, development, and embedded systems, which was founded in Gothenburg city by Haris Ibrahimovic, in the fall of 2021. Our name was inspired by Nordic mythology and reflects the Nordic spirit, quality, and trustworthiness. Along with Torque Engineering, we are committed to deliver transparency, professionalism and efficiency in our daily work.
With prudent beginnings, we seek to offer the sharpest minds and brilliant people, the best workplace to be a part of, and to deliver quality to our valued clientele.
Our vision is to establish long term business relationships with customers and partners, to create an gratifying environment where there is synergy between all involved parties.
Transparency
 Transparency fosters trust, and we believe trust is important for the health of both employer-employee and client-consultant relationship.
Diversity
Diversity does not exist without inclusion. When our consultants feel included, we believe they feel a sense of belonging that drives positive performance results.
Learners
We are life long learners. We never stop learning and evolving, into who and where we want to be.
Quality
For us, quality is adhering to strict standards in all of our work. We are passionate about our job, about providing exceptional customer service, and about helping our clients achieve their goals.
Career Development
We believe career development is a long-term investment in individuals and the company.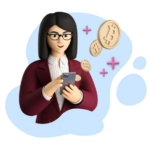 Benefits
We value our people, their talents and their uniqueness. We aim to give competitive remunaration and useful perks.